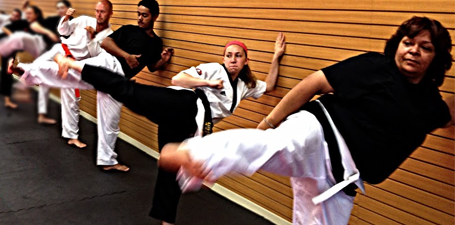 ADULT CLASSES

The belt system studied at New Edge, Moo Sool Do, is a combination of several Korean martial arts, which include Taekwondo, Tang So Do, Moo Duk Kwon, and Hap Ki Do. Both Taekwondo and Tang Soo Do utilize the hands and feet as striking weapons, whereas Hap Ki Do implements throws and joint manipulation to defend oneself.
ADULT SELF DEFENSE

Self Defense classes are held on a regular schedule throughout the week. For adults who are unable to commit to martial arts training and testing, the self defense classes can be taken as a completely separate and ongoing program. These classes can also be taken by any adult martial arts student aged 13 and above. With the aid of law enforcement corrections officers and specialized instructors, this course will educate individuals in various self defense scenarios. Skills that will be taught throughout the course include street-practical strikes, such as palm, elbow, and knee strikes. Adults will also be shown various escapes, throws, and controls from grabs while standing and while on the ground.
ADULT MARTIAL ARTS: TAEKWONDO, TANG SOO DO, AND HAP KI DO
Adults (ages 13 and above) practice and achieve rank in the combined Korean arts of Taekwondo and Tang Soo Do. Hap Ki Do is also implemented into the training regimen. This system is known as Moo Sool Do, and was created by 9th Dan Senior Grand Master James Sun Hwan Chung. Adult classes are dynamic, offering both sport and practical-oriented martial skills in a welcoming and eclectic environment.
---